Issue of the Week: Human Rights, War
Sama al-Kateab, Allepo, 2016, The Observer, 25 August 2019
Comfort the afflicted. Afflict the comfortable.
The former requires the latter.
So, in the late days of August for the comfortable, we bring affliction.
Fix your eyes on a baby girl in Syria. Then on her millions of sisters and brothers. And then millions of adults suffering, dying, resisting, running to save the children and themselves when they can, endlessly.
Three million people are at risk as we write in Syria, in the northern Idlib province. Actually, many more. This on top of the hundreds of thousands of deaths and millions of displaced refugees over the past several years, in what has often been described as the greatest catastrophe of its kind since World War Two.
The proximate cause has been the butchery of the Bashar Al-Assad dictatorship in collusion with Russia and Iran, drawing in or chasing out and enabled by–everyone–including US policy or the lack thereof, and that of the UK and Europe as well. ISIS and other extremist groups were launched or kept alive by the Syrian blood bath, with the original moderate majority of Syrians in resistance increasingly destroyed; Turkey has been pulled and pulls in all directions and is dealing with millions of refugees; Israel and Iran are increasingly at war in Syria, Iraq and Lebanon; the Saudis in Yemen are an offshoot of this chaos in many ways; Jordan is over-run with refugees. And the next wave is headed for Europe, again.
History and karma redux, maybe times Armageddon.
As we've noted during our series, The End Of Civilization As We Knew It, a direct line can be drawn from Syria to the hyper-sped up disintegration of the international order and values at least aspired to in the World War Two aims in defeating fascism. Of course, it was a moment as a lever created by many forces and events over many years. As we've pointed out relentlessly, the lack of equality in basic needs and rights for all is at the core of what's occurred. And the context of the age of weapons of mass destruction and now the digital age has amplified everything in ways that can't be overstated.
Any possibility of hope and survival as a species starts with not averting our eyes.
Today, we focus on what has happened and is happening, in Syria.
We salute The Observer in London for forcing us to not avert our eyes.
Here are two articles from Sunday's edition.
The first is an editorial. It sums up the situation briefly and powerfully. It is critical that the reader go to the links in the editorial, and then the links in the linked articles, which go back years, for a full view of what has occurred. It will be a fair amount of reading, but compared to what? Being a baby girl in Syria running from Assad's bombs?
The second is an interview with and overview from award-winning Syrian journalist Waad al-Kateab–a revelatory read and experience. Her new documentary film is a history of what has happened in Syria, from the most human on the ground perspective possible. As a mother, with the film dedicated to her daughter, born in Aleppo in 2016, and featured in the film.
Aleppo.
A place that made the White Helmets famous.
A place that compelled courageous journalists of the likes of CNN's chief international correspondent, Clarissa Ward, while reporting from what WBUR's profile of her called "the most dangerous country in the world", to beg the audience and the world to wake up and act.
A place, and a word, that will, with certainty, echo through history.
Even more so in the future, if there is one, when individuals in the main value the learning and memory of it once again.
The documentary by al-Kateab, For Sama, which won Best Documentary at Cannes this year and other such awards, is opening at cinemas starting in Portland in 48 hours, then throughout the UK, and broadcast there on Channel 4 and on the acclaimed PBS Frontline in the US in the Fall.
Keep your eyes on the venues and schedules.
Do.Not.Miss.It.
Here are the articles:
"The Observer view on Syria and the west's shameful failure to act"
Editorial, The Observer, London, 25 August 2019
The slaughter in Idlib is intensifying and millions have nowhere to go. The whole stability of the Middle East is at risk
The crisis in Syria does not feature high on the agenda at this weekend's G7 summit in Biarritz. The absence of two key players – Russia and Turkey – means any substantive initiatives are unlikely. Donald Trump has washed his hands of the conflict, although Pentagon chiefs are resisting his demand to withdraw all US forces. European leaders, beset by many other urgent problems, seem to prefer not to think about Syria at all.
This attitude is intolerably shortsighted. Western governments' neglect of the eight-year war and, in particular, its impact on civilians is a sadly familiar phenomenon, but no more acceptable for being predictable. Their involvement has been sporadic and uneven, spurred from time to time by headline events such as chemical weapons attacks or war crimes too horrific to ignore. The campaign against Islamic State (Isis) was given priority.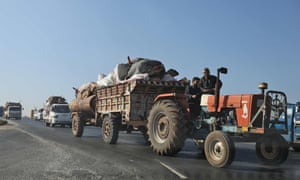 The price of this collective failure to tackle head-on one of the greatest strategic challenges of our time is now being paid, once again, by Syria's population. In Idlib, north-west Syria, more than 3 million people are under fire from Syrian regime forces, backed by Russian bombers and artillery. More than 800 noncombatants have died since April. At least half-a-million civilians, many previously displaced, have fled towards the Turkish border.
Despite repeated appeals for help by the UN, aid agencies and local organisations such as the White Helmets, the slaughter and mayhem are intensifying following last week's fall to Bashar al-Assad's troops of the southern Idlib town of Khan Sheikhoun. The plight of the fleeing population is compounded by Turkey's reluctance to accept more refugees and its determination to force many among 3.6 million Syrians already in Turkey out of the big cities and back across the border.
If not out of compassion then for reasons of narrow self-interest, western leaders must pay more attention. Recep Tayyip Erdoğan, Turkey's president, has helped hold the line in Idlib since last year, when he set up military observation posts to keep regime forces, rebels and jihadists apart. But this arrangement is falling apart. Last week a Turkish convoy was attacked, prompting Erdoğan to seek an emergency meeting with Vladimir Putin, his Russian counterpart.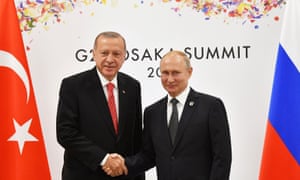 If a politically weakened Erdoğan loses patience, the consequences could be dire. In line with previous Turkish operations in al-Bab, Afrin and Azaz, he could order more military incursions into Syria to create what Ankara calls refugee "safe havens". He may further challenge the pro-western Syrian Kurds' control of areas east of the Euphrates. And by blocking the main escape route for Idlib's civilians, he could trigger another mass refugee exodus in the direction of Europe, similar to what happened in 2015.
"'My daughter was raised during the siege of Aleppo. I had to make a film for her'"
Kate Kellaway, Documentary films, The Observer, London, 25 August 2019
For Sama, a new documentary from award-winning Syrian journalist Waad al-Kateab, has won global acclaim. She talks about filming and family life on the frontline
The camera focuses on Sama's face. She is the sweetest baby and looks, at first glance, as though her life might be ordinary. Her eyes are a transitory newborn colour, greyish green, waiting to turn brown. Her gold earrings look over-large in her tiny ears. Sama means sky in Arabic – a sky, as her mother imagines it, where no bombs fall, with ordinary clouds and sunshine. So far, this is footage that could be the work of any doting parent, but Sama's mother is journalist Waad al-Kateab and this is her documentary For Sama, filmed during the Syrian war. In the film al-Kateab sings a lullaby that almost lulls us – if not Sama – into a false sense of security. Sama is chewing her toe investigatively, as babies do, when a tank shell explodes. It sounds like a nightmare next-door neighbour heaving heavy furniture about and there is a shout: "Downstairs, downstairs, there's another one coming…" It is the summer of 2016, the beginning of the siege of Aleppo. The camera loses focus, swerves incoherently. Al-Kateab calmly asks someone to "take Sama". By now, the shells are deafening.