Issue of the Week: Human Rights
Why Joe Biden Picked Kamala Harris, The Atlantic, August 11, 2020
On Tuesday, Joe Biden named California Senator Kamala Harris as his running mate, the first Black woman on a major party's presidential ticket.
No matter what occurs next, history in the advancement of human rights has been made in a number of ways.
More on this below. But, first, let's take a moment to look back.
On July 19, 1984, the first woman nominee of a major party for vice-president addressed the Democratic National Convention, and as described in The Presidential Election Show, authored by one of the writers here, "some as of yet, unexperienced, indescribable new energy seemed to emanate from the video monitors as Geraldine Ferraro stood at the podium as the first woman in history to accept the nomination of a major party for the office of vice-president of the United States."
Here are her opening words:
Ladies and gentlemen of the convention: My name is Geraldine Ferraro. I stand before you to proclaim tonight: America is the land where dreams can come true for all of us.
As I stand before the American people and think of the honor this great convention has bestowed upon me, I recall the words of Dr. Martin Luther King Jr., who made America stronger by making America more free.
He said: "Occasionally in life there are moments which cannot be completely explained by words. Their meaning can only be articulated by the inaudible language of the heart."
Tonight is such a moment for me.
The moment was electrifying.
And electrifying again, 38 years later, with the selection of only the fourth woman as a nominee on a presidential ticket, one for president and three for vice-president.
But a first in numerous critical ways.
The first Black woman.
She is also the first of South Asian descent.
The daughter of immigrants from Jamaica and India.
Born in the USA.
Representing what it is increasingly becoming.
Part of which is a generational change as well–Harris is 55, the first year by many generational measures of Gen X.
As the centennial of the constitutional ratification of the vote for women approaches on Tuesday.
The Democratic National Convention this year starts on Monday.
The first in history that will be virtual.
Defining a moment in history for Americans and the people of the world different by a magnitude immeasurable that has never happened before.
In the pandemic of Covid-19, nearly 21 million cases and 770,000 deaths worldwide, a quarter of the above in the US alone.
Disease, death, economic deprivation, inequality on top of inequality already causing unimaginable suffering and chaos. Personal disconnection and disorientation in a culture that was already spiraling downward in the behavioral sink increasingly for many years.
Whatever the outcome, as all the above have led to millions in the streets around the world–democracy, equality and the survival of life on earth depending on basic needs and rights for all provided sustainably, are hanging in the balance.
There are many things which we could comment on here at length.
We won't.
Instead we let a number of articles from media coverage do the commenting.
Articles below are from The Atlantic, Associated Press and The New York Times, including a cover story in tomorrow's Sunday Times and piece in the Sunday Review (at the top of most popular emailed of all articles) posted tonight.
Here they are:
"Why Joe Biden Picked Kamala Harris"
Edward-Isaac Dovere, August 11, 2020, The Atlantic.
Biden's running mate is two decades younger than he is; the potential vice presidency seems like merely a first step.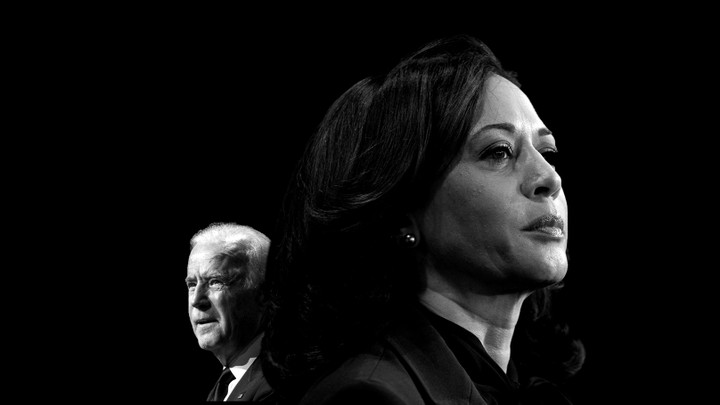 If joe biden is elected in November, his presidency will likely be defined by history-shaping decisions made after long, deliberative, some might say operatic processes. Biden's selection of Senator Kamala Harris of California as his running mate—the first woman of color to appear on a major-party ticket—was precisely that sort of careful, drawn-out decision.
Neera Tanden, the president of the Center for American Progress, says that Biden's selection of a Black woman with Indian and Jamaican parents shows that Biden is running a very different campaign than Donald Trump. "In the selection of a vice president, he's created a deep contrast between the pettiest of men and a man who obviously has no pettiness within him," Tanden told me, minutes after Harris was announced.
The pandemic continues to upend every milestone of this election. If the Democratic National Convention hadn't been delayed, Biden would have revealed his running mate much earlier in the summer. Instead, the 2020 "veepstakes" portrayed Biden as a candidate who takes especially long to make up his mind—then stretches out the process a little longer. Biden has effectively been the Democratic nominee for five months. In that time, countless vice-presidential potentials emerged, and most faded. Biden made it clear in March that he was committed to running alongside a woman. An early candidate was Senator Amy Klobuchar of Minnesota, who officially took herself out of the running after her prosecutor days came under attack after the murder of George Floyd.
"Glad to finally have the veepstakes drama behind us and start beating on Trump instead of each other," one relieved top Democratic donor texted me after the Biden campaign's announcement this afternoon.
Unlike news out of the Trump White House and the Trump 2020 campaign, very little of Biden's running-mate selection process leaked to the press, despite the efforts of reporters and activists with grievances, both sincere and performative. An unmistakable aspect of Biden's campaign, and one he will likely carry with him to the White House is his small, stable circle of aides who have been with him for years and are intensely loyal to him. He is able to talk out his thoughts with them—he likes to talk out his thoughts a lot, and at length—while feeling secure that they won't turn on him. That won't be so easy to keep up if he is president, and is forced to expand his top staff from the same "graybeards," as younger aides sometimes refer to Biden's confidants.
Throughout the vetting process, Biden considered running mates who had supported his campaign early on—such as Atlanta Mayor Keisha Lance Bottoms—and those who had tried to connect with him on a personal level, including Michigan Governor Gretchen Whitmer and Representative Karen Bass of California, according to people who've spoken with him along the way. Harris and Biden have been friendly for years, and Harris was close with Biden's late son, Beau.
Because the pandemic has limited in-person campaigning, Harris's most important job will be debating Vice President Mike Pence this fall. Harris gained national popularity after her intense questioning of various Trump nominees, including Brett Kavanaugh and Jeff Sessions, during their Senate confirmation hearings. Observers believe she will be an intense opponent for the more subdued Pence.
She's also likely to bring big money to Biden's campaign. "She has a proven track record as an incredibly strong fundraiser," says Andrew Weinstein, a Florida-based member of Biden's national finance committee. "Her announcement will certainly make a big splash with a lot of Democratic donors."
By picking Harris over Susan Rice—whose time as United Nations ambassador and national security adviser to Barack Obama gave her a breadth of foreign-policy experience—Biden is hinting that he would want to take the lead as president in reaching out to heads of government around the world, which aides and advisers say will be a major focus if he beats Trump. Reentering the Iran deal and the Paris Agreement would be early goals, as would reestablishing America's role as an internationalist force and a moral leader. Biden has bragged on the trail about knowing almost every foreign leader.
Having spent four years as a senator, Harris would enter the administration with relationships on Capitol Hill. But if Biden had been looking for someone to take the lead as a congressional negotiator, he might have gone with Bass, the Congressional Black Caucus chair and a close ally of House Speaker Nancy Pelosi. Another central part of Biden's campaign pitch is his long relationships with Democratic and Republican lawmakers alike. Picking Harris suggests that he's looking to retain the primary role in congressional relations, too.
Since the early days of coronavirus-related shutdowns, Biden has talked about how Americans' "blinders have been taken off" about what is wrong with the economy and Trump's leadership. Among progressives, Biden's talk of systemic issues has elevated hopes that he might be open to the more revolutionary thinking touted by Senator Bernie Sanders of Vermont. Had Biden chosen Bass or Senator Elizabeth Warren of Massachusetts, both of whom were more popular among progressives, he would have indicated a shift in that direction.
"Kamala Harris ran in the progressive lane and was able to nicely balance the progressive approach with a history of pragmatism, and that balance is exactly where Biden wants to be: He wants to dream big, but get things accomplished," says Scott Mulhauser, a longtime Democratic aide who was the deputy chief of staff to Biden during Obama's 2012 reelection campaign. "As someone who has mastered pushing the Senate as far as she could, he wants her as a partner to drive big agendas and to know when to cut the deal to get almost everything you want and actually get it done."
Biden "doesn't care about Twitter fodder. He's always genuinely loved Kamala Harris, has always respected her abilities," says Eric Ortner, a donor and friend. "They care about saving America, protecting the rule of law, and uniting the country when our very health, lives, and existence is at stake."
Back at the beginning of March, in what turned out to be the final rally of his campaign, in a high-school gym in Detroit, Biden looked over at Harris, Whitmer, and Senator Cory Booker of New Jersey and said, "Look, I view myself as a bridge, not as anything else," adding: "There's an entire generation of leaders you saw stand behind me. They are the future of this country."
Tanden told me that Biden landed on "a vice president who can be a partner across the board." Biden will turn 78 two weeks after Election Day. If he wins, he will be the oldest president ever inaugurated. Harris, 55, is now the odds-on favorite to be the Democratic nominee after Biden, whether that's in 2024 or 2028.
. . .
"Biden picks Kamala Harris as running mate, first Black woman"
By Kathleen Ronayne and Will Weissert, August 11, 2020, The Associated Press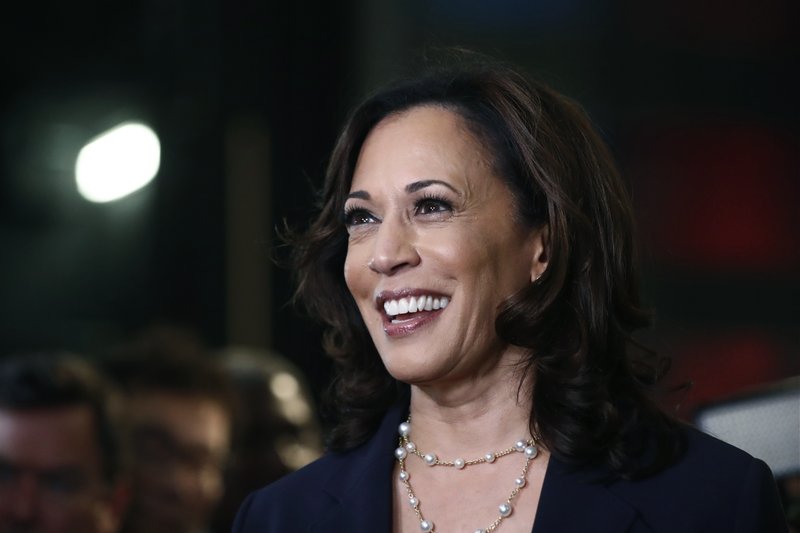 WILMINGTON, Del. (AP) — Joe Biden named California Sen. Kamala Harris as his running mate on Tuesday, making history by selecting the first Black woman to compete on a major party's presidential ticket and acknowledging the vital role Black voters will play in his bid to defeat President Donald Trump.
In choosing Harris, Biden is embracing a former rival from the Democratic primary who is familiar with the unique rigor of a national campaign. The 55-year-old first-term senator, who is also of South Asian descent, is one of the party's most prominent figures. She quickly became a top contender for the No. 2 spot after her own White House campaign ended.
She will appear with Biden for the first time as his running mate at an event Wednesday near his home in Wilmington, Delaware.
In announcing the pick, Biden called Harris a "fearless fighter for the little guy, and one of the country's finest public servants." She said Biden would "unify the American people" and "build an America that lives up to our ideals."
Harris joins Biden at a moment of unprecedented national crisis. The coronavirus pandemic has claimed the lives of more than 160,000 people in the U.S., far more than the toll experienced in other countries. Business closures and disruptions resulting from the pandemic have caused severe economic problems. Unrest, meanwhile, has emerged across the country as Americans protest racism and police brutality.
Trump's uneven handling of the crises has given Biden an opening, and he enters the fall campaign in strong position against the president. In adding Harris to the ticket, he can point to her relatively centrist record on issues such as health care and her background in law enforcement in the nation's largest state.
The president told reporters Tuesday he was "a little surprised" that Biden picked Harris, pointing to their debate stage disputes during the primary. Trump, who had donated to her previous campaigns, argued she was "about the most liberal person in the U.S. Senate."
"I would have thought that Biden would have tried to stay away from that a little bit," he said.
Harris's record as California attorney general and district attorney in San Francisco was heavily scrutinized during the Democratic primary and turned away some liberals and younger Black voters who saw her as out of step on issues of racism in the legal system and police brutality. She declared herself a "progressive prosecutor" who backs law enforcement reforms.
Biden, who spent eight years as President Barack Obama's vice president, has spent months weighing who would fill that same role in his White House. He pledged in March to select a woman as his vice president, easing frustration among Democrats that the presidential race would center on two white men in their 70s.
Biden's search was expansive, including Massachusetts Sen. Elizabeth Warren, a leading progressive; Florida Rep. Val Demings, whose impeachment criticism of Trump won party plaudits; California Rep. Karen Bass, who leads the Congressional Black Caucus; former Obama national security adviser Susan Rice; and Atlanta Mayor Keisha Lance Bottoms, whose passionate response to unrest in her city garnered national attention.
A woman has never served as president or vice president in the United States. Hillary Clinton was the Democratic presidential nominee in 2016. Two women have been nominated as running mates on major party tickets: Democrat Geraldine Ferraro in 1984 and Republican Sarah Palin in 2008. Their parties lost in the general election.
The vice presidential pick carries increased significance this year. If elected, Biden would be 78 when inaugurated in January, the oldest man to ever assume the presidency. He's spoken of himself as a transitional figure and hasn't fully committed to seeking a second term in 2024.
Harris, born in 1964 to a Jamaican father and Indian mother, spent much of her formative years in Berkeley, California. She has often spoken of the deep bond she shared with her mother, whom she has called her single biggest influence.
Harris won her first election in 2003 when she became San Francisco's district attorney. In that post, she created a reentry program for low-level drug offenders and cracked down on student truancy.
She was elected California's attorney general in 2010, the first woman and Black person to hold the job, and focused on issues including the foreclosure crisis. She declined to defend the state's Proposition 8, which banned same-sex marriage and was later overturned by the U.S. Supreme Court.
After being elected to the Senate in 2016, she quickly gained attention for her assertive questioning of Trump administration officials during congressional hearings.
Harris launched her presidential campaign in early 2019 with the slogan "Kamala Harris For the People," a reference to her courtroom work. She was one of the highest-profile contenders in a crowded Democratic primary and attracted 20,000 people to her first campaign rally in Oakland.
But the early promise of her campaign eventually faded. Her law enforcement background prompted skepticism from some progressives, and she struggled to land on a consistent message that resonated with voters. Facing fundraising problems, she abruptly withdrew from the race in December 2019, two months before the first votes of the primary were cast.
One standout moment of her presidential campaign came at the expense of Biden. During a debate, she said Biden made "very hurtful" comments about his past work with segregationist senators and slammed his opposition to busing as schools began to integrate in the 1970s.
"There was a little girl in California who was a part of the second class to integrate her public schools, and she was bused to school every day," she said. "And that little girl was me."
Shaken by the attack, Biden called her comments "a mischaracterization of my position."
The exchange resurfaced recently with a report that one of Biden's closest friends and a co-chair of his vice presidential vetting committee, former Connecticut Sen. Chris Dodd, still harbors concerns about the debate and that Harris hadn't expressed regret. The comments attributed to Dodd and first reported by Politico drew condemnation, especially from influential Democratic women who said Harris was being held to a standard that wouldn't apply to a man running for president.
Some Biden confidants said Harris' debate attack did irritate the former vice president, who had a friendly relationship with her. Harris was also close with Biden's late son, Beau, who served as Delaware attorney general while she held the same post in California.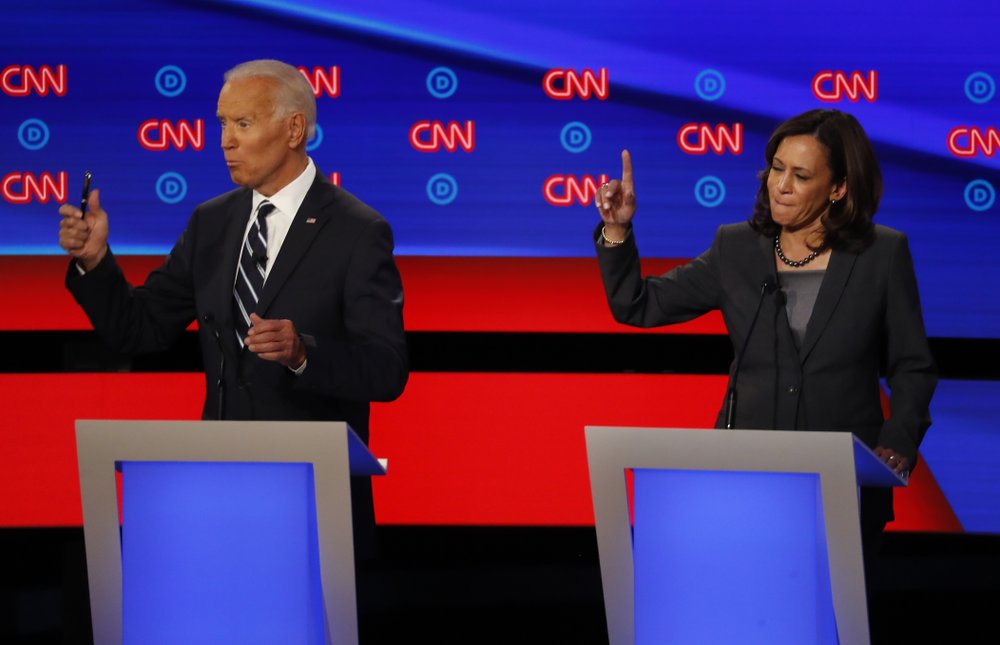 But Biden and Harris have since returned to a warm relationship.
"Joe has empathy, he has a proven track record of leadership and more than ever before we need a president of the United States who understands who the people are, sees them where they are, and has a genuine desire to help and knows how to fight to get us where we need to be," Harris said at an event for Biden earlier this summer.
At the same event, she bluntly assailed Trump, labeling him a "drug pusher" for his promotion of the unproven and much-questioned malaria drug hydroxychloroquine as a treatment for the coronavirus. After Trump tweeted "when the looting starts, the shooting starts" in response to protests about the death of George Floyd, a Black man in police custody, Harris said his remarks "yet again show what racism looks like."
Harris has taken a tougher stand on policing since Floyd's killing. She co-sponsored legislation in June that would ban police from using chokeholds and no-knock warrants, set a national use-of-force standard and create a national police misconduct registry, among other things. It would also reform the qualified immunity system that shields officers from liability.
The list in the legislation included practices Harris did not vocally fight to reform while leading California's Department of Justice. And while she now wants independent investigations of police shootings, she didn't support a 2015 California bill that would have required her office to take on such cases.
"We made progress, but clearly we are not at the place yet as a country where we need to be and California is no exception," she told The Associated Press recently. The national focus on racial injustice now, she said, shows "there's no reason that we have to continue to wait."
___
Ronayne reported from Sacramento, California. Associated Press writers Alexandra Jaffe, Jill Colvin and Julie Pace contributed from Washington.
. . .
"Biden and Harris Pledge a Strong Challenge to Trump and a Path Out of Crisis"
By Katie Glueck and Thomas Kaplan, August 13, 2020, The New York Times
Joe Biden and Kamala Harris made their debut as running mates in Wilmington, Del., offering a vision of recovery from the coronavirus and pressing their case that the president has made things worse at every turn.
WILMINGTON, Del. — Joseph R. Biden Jr. and Senator Kamala Harris made their debut as running mates in a high school gymnasium on Wednesday, pledging to lead the country out of the coronavirus crisis amid an onslaught of attacks from President Trump as the two national tickets went head-to-head for the first time, less than three months before Election Day.
The first full day for the newly announced Democratic presidential ticket offered a glimpse of how two once-bitter rivals from opposite coasts and different generations will try to unite Americans around their platform. Projecting warmth toward each other, they sketched out a vision of recovery from the nation's crises surrounding public health, the economy and racial injustice — challenges that, they argued, Mr. Trump has made worse at every turn with an extraordinarily divisive presidency.
"We need more than a victory on Nov. 3," Ms. Harris said. "We need a mandate that proves that the past few years do not represent who we are or who we aspire to be."
Ms. Harris, a Californian who once served as attorney general of the state, made clear that part of her campaign role would be demonstrating her skills as a prosecutor to build a case against Mr. Trump and Vice President Mike Pence, methodically detailing what she cast as the administration's failures in combating the coronavirus, reopening the economy and creating conditions under which schools could reopen safely this fall.
"Let me tell you, as somebody who has presented my fair share of arguments in court, the case against Donald Trump and Mike Pence is open and shut," Ms. Harris said.
Other contours of Ms. Harris's role in the campaign also started coming into focus on Wednesday. A Biden adviser described Ms. Harris as well positioned to connect with Black and Latino voters across the country as well as with suburban women, saying that the campaign expected her presence on the ticket to drive turnout in Arizona, Florida and Texas in particular, as well as in communities of color nationally.
People familiar with Ms. Harris's plans said they expected her to be a major presence on the virtual fund-raising circuit, and she and Mr. Biden, the former vice president, held a grass-roots fund-raiser on Wednesday night in an ornate ballroom of the Wilmington hotelwhere Mr. Biden announced his 1972 Senate candidacy. There, Mr. Biden announced that in the past 24 hours, the campaign had raised $26 million, with 150,000 first-time contributors.
More fund-raisers, such as a Bay Area virtual reception, are also planned for Ms. Harris, according to invitations. And her outreach to key Democratic Party constituencies is also underway — an event with members of the Jewish community, for example, is in the works, according to people familiar with the planning.
Mr. Trump, who has unleashed sexist attacks on Ms. Harris, called her "a very risky pick" at a news conference as he referred to "horrible things" she had said about Mr. Biden during the primary campaign, suggesting those words would haunt the ticket.
"I'm sure that'll be played back," Mr. Trump said. "Not necessarily by me, but others. It'll be played back."
Mr. Trump also defended his administration's response to the virus, citing the number of tests that have been administered and bragging about the government's efforts to ramp up production of ventilators to help gravely ill patients.
"We have better testing than any country in the world," he said, adding that "when you look at the job that we've done compared to others, we've done a great job."
As Mr. Biden and Ms. Harris spoke on Wednesday before a group of socially distanced reporters — not the excited crowd of supporters that would normally greet such an occasion — they each nodded to the symbolism and historic nature of the moment. Wednesday was the third anniversary of the white supremacist rally in Charlottesville, Va., at which Mr. Trump claimed there were "very fine people on both sides," Mr. Biden noted.
"I knew we were in the battle for the soul of the nation," Mr. Biden said. "That's when I decided to run. And I'm proud now to have Senator Harris at my side in that battle, because she shares the same intensity I do."
The former vice president, Ms. Harris said, was the only person who had "served alongside the first Black president and has chosen the first Black woman as his running mate."
Ms. Harris, the daughter of immigrants from India and Jamaica, is the first woman of color on a major party's presidential ticket, and she and Mr. Biden argued that possibilities for American success stories abound despite the challenges that the nation confronts.
"Her story's America's story," Mr. Biden said.
But they also laid out the staggering toll that the coronavirus crisis has taken on every facet of American life, And they made clear that they will seek to make the election a referendum on Mr. Trump's handling of the outbreak.
"This virus has impacted almost every country, but there's a reason it has hit America worse than any other advanced nation," Ms. Harris said. "It's because of Trump's failure to take it seriously from the start. His refusal to get testing up and running. His flip-flopping on social distancing and wearing masks. His delusional belief that he knows better than the experts."
The joint appearance, which came a day after Mr. Biden announced his decision, followed a highly public vice-presidential search process. Some of Mr. Biden's allies made clear their reservations about Ms. Harris, which originated with her searing debate stage attack last summer on Mr. Biden's record on busing, remarks that struck his team as cynical as she later struggled to articulate her own view on the issue.
But in recent weeks, some of the criticism of Ms. Harris from Democrats played out through sexist language around whether she was overly "ambitious," a dynamic she appeared to nod to when she said she was "mindful of all the heroic and ambitious women before me."
But Ms. Harris and Mr. Biden repeatedly sought on Wednesday to demonstrate that they shared a policy agenda and personal values, with Ms. Harris echoing Mr. Biden's often-used language about "character," and demonstrating a fluency with his campaign proposals. They also emphasized the importance of Ms. Harris's friendship with Beau Biden, Mr. Biden's son who died in 2015.
"Kamala," Mr. Biden told his running mate, "you've been an honorary Biden for quite some time."
Ms. Harris, too, invoked Beau Biden, in a moment loaded with emotion, recalling their frequent phone conversations when they were both state attorneys general.
"He really was the best of us," Ms. Harris said. "And when I would ask him: 'Where did you get that? Where did this come from?' — he'd always talk about his dad."
The joint appearance provided a striking reminder of how the pandemic has upended the usual rhythms of a presidential campaign. Four years ago, Hillary Clinton and her new running mate, Senator Tim Kaine of Virginia, made their debut appearancebefore thousands of people inside an arena in Miami. Mr. Biden, on the other hand, barely strayed from his Wilmington home for his appearance with Ms. Harris.
Though scores of onlookers gathered outside Alexis I. duPont High School, the event was closed to the public, depriving it of the typical soundtrack of big campaign speeches. There was no burst of applause, for instance, at the long-awaited moment when Mr. Biden introduced Ms. Harris as "your next vice president of the United States." (After the event, Mr. Biden told a CNN reporter, "If the science allows us, you're going to see us campaigning together.")
Still, the current constraints did not interfere with online fund-raising.
On Facebook, the Biden campaign sought to keep up the flow of donations on Wednesday, running hundreds of ads prodding supporters to kick in small contributions.
The Facebook ads included some broad talking points, saying that Ms. Harris "is a leader in holding the Trump administration accountable" and that "Joe and Kamala are ready to fight for hard-working Americans who have been hurt by Trump and the G.O.P.'s divisive politics."
The Trump team was nearly immediate in its digital response, flooding its multimillion-dollar Facebook campaign with ads calling Ms. Harris a far-left liberal and painting the Biden-Harris ticket as "two of our Nation's most RADICAL Democrats."
The Trump campaign also turned the Harris announcement into a fund-raising opportunity online, asking for small-dollar donations that it claimed would help air a 30-second, ready-for-TV ad attacking Ms. Harris as a member of the "radical left" and "a phony."
In his own speech, Mr. Biden directly addressed Mr. Trump's attacks on Ms. Harris, quoting some of the adjectives he had used, like "nasty."
"It's no surprise, because whining is what Donald Trump does best, better than any president in American history," Mr. Biden said. "Is anyone surprised Donald Trump has a problem with a strong woman, or strong women across the board? We know that more is to come."
Nick Corasaniti contributed reporting from New York, and Michael D. Shear from Washington.
. . .
"What Kamala Harris Means For Feminism"
Emma Green, August 13, 2020, The Atlantic
Why having a woman vice-presidential candidate is historic—and painful for young feminists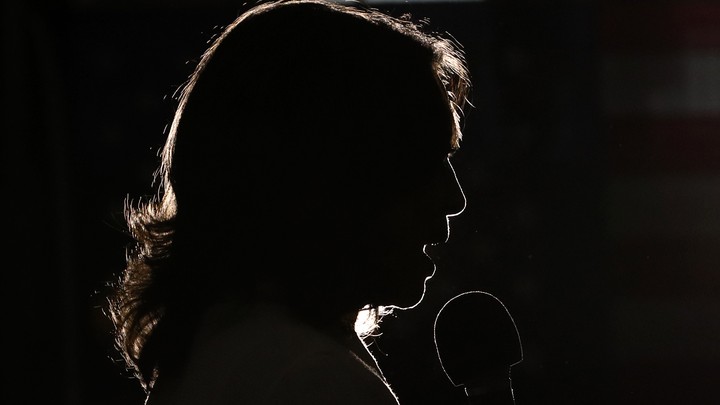 The morning before kamala harris became the Democratic nominee for vice president, I met Amanda Litman at the Javits Center in New York City, a mammoth building near the Hudson River made almost entirely of glass. Four years ago, Litman spent Election Night here, waiting excitedly in a holding area with other staffers on Hillary Clinton's campaign. The intended metaphor was not subtle: Clinton was to declare her victory as America's first woman president beneath a literal glass ceiling, shattering the most notorious gender barrier in politics.
When Clinton lost, Litman, who served as Clinton's email director, felt more than just professional defeat. She believed the election was about proving that a woman similar to herself—often described as too ambitious, too much, or too loud—could succeed in America. "If you had asked me the next morning, 'Will we ever have a woman president?' I would have stopped crying hard enough to tell you to fuck off," Litman told me. "It felt unimaginable."
These days, the Javits Center—still glass, still not shattered, and what happened to all those Election Night balloons that never dropped?—has become even more of a poisoned metaphor. This spring, as New York City became the global epicenter of the pandemic, the Army Corps of Engineers retrofitted the conference center into a temporary field hospital, where doctors treated more than 1,000 COVID-19 patients. Most entrances to the building have now been sealed shut. Men in military fatigues guard a formidable-looking security area off 34th Street. On the morning I met Litman there, the wide avenues around the building, normally chaotic with honking taxis and daredevil drivers, were apocalyptically empty. The city, and the country, felt resigned to a collective standstill.
Harris's nomination is historic: She is the first Black woman, the first Asian American woman, and the first graduate of a historically Black college or university to join a major party's presidential ticket. If Joe Biden wins in November, she'll be America's first woman vice president. But this milestone is bittersweet for people like Litman, who can't help feeling cynical after living through Donald Trump's presidency, the COVID-19 pandemic, and the economic collapse that followed. "I haven't really wrapped my head around how it will feel to watch a woman accept the nomination for vice president," Litman told me as we sat on a bench by the river, tears welling over her black face mask. "I can't let myself think about it. It's too hard."
Since she was a little girl, Litman has been obsessed with getting women elected to national office. In high school, she wrote a paper about Geraldine Ferraro, who in 1984 became the first female major-party candidate for vice president. Litman wrote her college thesis about women running against other women. When she graduated from Northwestern University in 2012, she made every career choice with an eye toward getting a job on Hillary Clinton's 2016 campaign. But after Clinton's loss, she began to see the country's focus on national elections as misguided. Litman and a fellow political operative, Ross Morales Rocketto, started Run for Something, an organization that recruits and promotes progressives under 40 who want to campaign for state or local office. The group expects to have roughly 500 candidates on ballots across the country this November, and a majority of them are women. "The possibility for one of the women that we're working with now to become governor, to become senator, [or] to become president feels so much more realistic" than a woman winning at the national level right now, she said. "I have to imagine that in two or four or 10 years, we'll be ready for her."
And yet, despite her scars from 2016, Litman found herself getting her hopes up during the Democratic presidential primary. She was inspired by Kirsten Gillibrand's short-lived campaign, which focused explicitly on promoting women and families. She loved all the selfies Elizabeth Warren took with young women, making them pinkie promise to remember that running for president is "what girls do." But as time went on, it became clear to Litman that the Democratic nominee would once again be a man. "The day Elizabeth Warren dropped out was devastating. I cried," Litman said. She wrote an op-ed in Cosmopolitan, cheekily titled "Stop Lying, America: You Were Never Gonna Vote for a Woman President."
Biden seemed to realize that voters like Litman will not be thrilled to cast a ballot for yet another white guy in 2020. In March, he promised to pick a woman as his vice president. But that seemingly well-meaning gesture backfired. "Will she be short or tall, big or small, black or white, left or center? Who is to say, really," wrote New York's Rebecca Traister this spring. "She will be A Woman™." Litman similarly saw Biden's pledge as "deeply fucked up." By declaring he would pick a woman from the outset, Biden opened the way for his opponents to claim that his running mate was on the ticket just "because she's a lady, and not because she's good at her job," Litman told me. Now Litman fears that Harris will have to endure a fall full of racist and sexist attacks, only to risk being blamed by the pundit class if Biden loses. "I think it's going to be miserable for her, miserable for her staff," Litman said. "I wouldn't wish that job on my worst enemy."
Harris isn't the only woman carrying a disproportionate burden this election season. Reporting and polling suggest that women have generally taken on more child careand household duties than their male partners since the onset of the pandemic. Women are more likely than men to work as nurses and elder-care aides, some of the professional roles most affected by COVID-19. More women than men have also lost their jobs in the recession caused by nationwide shutdowns. When November arrives, women voters might decide who wins the presidential election:Women's political activism helped flip the House of Representatives from red to blue in 2018. Since then, women's anger has only escalated, putting Trump well behind Biden in recent polls.
"It does feel like a consolation prize," Litman told me of Harris's VP nomination. "But it also feels like a consolation prize I will happily take." She finds it easier to be optimistic, and to live with the daily rage she feels about the state of American politics, because she is helping cultivate the women who will one day serve in state legislatures, governors' mansions, and maybe even the White House. Her ultimate goal is to make a woman's being named to a presidential ticket unremarkable. "I hope there is a day when it is so deeply boring that women are running for office and winning, and there can be just as many mediocre women as there are mediocre men," she said.
Still, in spite of herself, when Litman heard that Harris was the one, she felt excited. Recently, she ordered the new all-woman Barbie campaign-team set that Matteldebuted in honor of the 2020 election, a ploy the company has used to capitalize on feminist despair in nearly every presidential-election year since Bill Clinton was in office. "[I] can't stop thinking about the photos of [Harris] with the little girls she met on the campaign trail, and how meaningful this will be to them," Litman texted me. "To all of us, but especially to them."
. . .
"Kamala Harris, Daughter of Immigrants, Is the Face of America's Demographic Shift"
By Sabrina Tavernise, cover story, Aug. 16, 2020, Sunday New York Times
Her parents' arrival to Berkeley as young graduate students was the beginning of a historic wave of immigration from outside Europe that would change the United States in ways its leaders never imagined.
When Kamala Harris's mother left India for California in 1958, the percentage of Americans who were immigrants was at its lowest point in over a century.
That was about to change.
Her arrival at Berkeley as a young graduate student — and that of another student, an immigrant from Jamaica whom she would marry — was the beginning of a historic wave of immigration from outside Europe that would transform the United States in ways its leaders never imagined. Now, the American-born children of these immigrants — people like Ms. Harris — are the face of this country's demographic future.
Joseph R. Biden Jr.'s choice of Ms. Harris as his running mate has been celebrated as a milestone because she is the first Black woman and the first of Indian descent in American history to be on a major party's presidential ticket. But her selection also highlights a remarkable shift in this country: the rise of a new wave of children of immigrants, or second-generation Americans, as a growing political and cultural force, different from any that has come before.
The last major influx of immigrants, in the late 19th and early 20th centuries, came primarily from Eastern and Southern Europe. This time the surge comes from around the world, from India and Jamaica to China and Mexico and beyond.
In California, the state where Ms. Harris grew up and which she now represents in the Senate, about half of all children come from immigrant homes. Nationwide, for the first time in this country's history, whites make up less than half of the population under the age of 16, the Brookings Institution has found; the trend is driven by larger numbers of Asians, Hispanics and people who are multiracial.
Today, more than a quarter of American adults are immigrants or the American-born children of immigrants. About 25 million adults are American-born children of immigrants, representing about 10 percent of the adult population, according to Jeffrey Passel, senior demographer at the Pew Research Center. By comparison the foreign-born portion of the population is still much larger — about 42 million adults, or roughly one in six of the country's 250 million adults, Mr. Passel noted.
At 55, Ms. Harris is on the older side of this second generation of Americans whose parents came in those early years. But her family is part of a larger trend that has broad implications for the country's identity, transforming a mostly white baby-boomer society into a multiethnic and racial patchwork.
Because of the influx of immigrants from outside Europe and their children, every successive generation in America in the past half-century has been less white than the one before: Boomers are 71.6 percent white, Millennials are 55 percent white, and post-Gen Z, those born after 2012, are 49.6 percent white, according William Frey, a demographer at the Brookings Institution.
"The demography is moving forward," said Marcelo Suarez-Orozco, chancellor at the University of Massachusetts, Boston, who has studied these modern children of immigrants from the Caribbean, China, Central America, and Mexico. "This is the future in the U.S."
The immigrants who arrived about fifty years ago — people from countries like India, China and Korea — often had higher education, but rarely went into politics. Their children, now middle-aged adults, are the ones moving into American public life.
"When my parents came, it was like, 'we just want to make it,'" said Suhas Subramanyam, who was born to Indian parents in Houston in the 1980s and in 2019 became the first Indian-American to be elected to the Virginia House of Delegates. "But the second generation, we want to make our mark on the world. I wanted to do more than just work at a law firm and make money. I feel very patriotic about America."
There were only about 12,000 Indian immigrants in the United States around the time Ms. Harris's mother, Shyamala Gopalan, arrived. Satish Korpe, an engineer who moved to Virginia in 1975, said there were so few Indian immigrants in the state when he got there that there was not a single Indian food store, and people drove to New Jersey to buy groceries.
"In the mid-1970s, if you ran into someone who was American, you might have been the first Indian person they'd ever seen," he said. "Then in the 1980s, maybe you would be the fifth. And in the 1990s, the tenth."
These changes trace back to the passage of the landmark 1965 Immigration and Nationality Act, which abolished the quotas that were established in the 1920s to keep America white and Protestant. The 1965 law banned discrimination based on ethnicity in the immigration system and prioritized entry for people with relatives already in the United States and those with special skills.
In addition to opening the door to many more immigrants from India, the law also ended a strict quota on the number of immigrants from the British West Indies.
Previously about only 100 Jamaican immigrants a year were allowed into the country. And in 1960, around the time when Ms. Harris's father Donald Harris began to settle in the United States, there were fewer than 25,000 Jamaican immigrants in the United States, according to the Migration Policy Institute. But by 2018, that number had increased to more than 733,000.
Amber Simon's Jamaican mother came to the United States in 1984 at the invitation of an aunt. She eventually married a Black man from Alabama, and Ms. Simon, now 24, remembers growing up in Tampa, Fla. and feeling that her friends' houses were different. They did not take off their shoes or have the same kind of respect for their parents that was the rule in her Jamaican household.
Her father taught her to conform to society, and to try not to stand out, and he talked to her about the dangers of the police. But her mother, who lived in Jamaica until she was 15, had none of those views.
"Half of me grew up oblivious to the fact that I was a minority, and half of me was really conscious of it," said Ms. Simon, who began to write online about her thinking on race after the killing of George Floyd.
She visited Jamaica for the first time last year, and said she was stunned at how much it resembled her father's living circumstances growing up: deeply poor. But she also gained an even greater respect for her mother, who, through force of will, completed her education and is now a project analyst for the federal government.
"I always say, if my Mom can overcome the obstacles she's faced as an immigrant, there's absolutely no reason I can't have the success that I dream of," said Ms. Simon, who is beginning an M.B.A. program next month. "There's no excuse for me to not be exactly where I want to be in life."
In 1970, when Ms. Harris was growing up and the effects of the 1965 law were not felt fully yet, America was still mostly a country of Black and white. Immigrants were less than 5 percent of the population. Ms. Harris' parents divorced when she was 5, and her mother raised Ms. Harris and her sister as Black girls, because she knew American society would see them that way.
"My mother understood very well that she was raising two Black daughters," Ms. Harris wrote in her book, "The Truths We Hold."
Navigating the divide between Black and white can be difficult for the children of immigrants who are neither. Ghazala Hashmi grew up in southern Georgia, in the only Indian family in her small town. Her father had brought the family there after finishing his doctorate in the late 1960s.
"We were a minority of one in our school, always," said Ms. Hashmi, 56, who is now a state senator in Virginia. "I never knew anybody who was like me. It was extremely isolating."
Ms. Hashmi was in second grade when her school began to be integrated. She has clear memories of the awkward feeling of not fitting into a neat racial category, in a country where people clearly wanted to put her in one.
"I was very conscious as a child of being neither Black nor white," she said. "The white children would not play with the Black children, and apparently I could play with either. Sometimes I could mediate. It was very formative to be part of that as an immigrant and a child of the South."
Eventually more families came, and by the time her sister was born eight years later, there were more South Asian children to play with.
Last fall, Ms. Hashmi, a former literature professor and a Democrat, flipped a State Senate seat in central Virginia. The tagline for her campaign, she said, was "Ghazala Hashmi is an American name."
"I really needed people to understand that there was a more complex America that was growing," she said, "that my name was part of a new American identity that had been emerging for 40 years, and we just hadn't been conscious of it."
These children of immigrants are mostly better off economically than immigrants. They earn more, are more educated, and are more likely to own a home, according to a 2013 Pew report. And they are more likely to marry a person of another race: Interracial marriage rates are especially high for second-generation Hispanics, at 26 percent, and among Asians, 23 percent, Pew found.
The cultural clout of immigrant families is set to grow even more given that America's population is now growing at its lowest rate since 1919, because of a drop in births and an acceleration in deaths. If current trends continue, 93 percent of the growth of the nation's working-age population between now and 2050 will be accounted for by immigrants and their U.S.-born children, Pew projected.
They are also a growing political force: More than 23 million immigrants will be eligible to vote in the 2020 presidential election, Pew has found. That is roughly 10 percent of the nation's overall electorate, a record high. And because they and their children have tended to vote for Democrats, the political winds are shifting in states like Arizona, Nevada, Virginia, Georgia and Texas.
Ashu Rai grew up in the 1970s about 70 miles east of where Ms. Harris was born. Her town had a Sikh temple that was a gathering place for South Asians from miles around. As a child, she played on the grass outside and went to potluck suppers at people's houses after worship. But South Asians were still rare in her suburban life, and for a while as a teenager, Ms. Rai pretended to be Hispanic.
"It was just easier to assimilate, rather than trying to explain what being from India meant," said Ms. Rai, whose Indian parents went to Wyoming in 1969 to earn postgraduate degrees before moving to California.
Today Ms. Rai, a Democrat, feels proud of her Indian roots. She works in health care marketing, and organizes dance parties for L.G.B.T.Q. South Asians. She badly wanted Ms. Harris to win the presidential primary. So when the senator was picked for the ticket this week, Ms. Rai was elated.
"My first word when I found out? I think it was a swear word," she said. "I was like, 'she's got it.'"
. . .
By Maureen Dowd, Opinion Columnist, Sunday Review, Aug. 16, 2020, The New York Times
Trumpworld dismisses Harris as calculating. But we need a woman who can calculate a way out of the mess this president has made.
WASHINGTON — One wintry day in 1992, my boss drolly told me to try to look young.
We were meeting Richard Nixon and the fallen president preferred to talk to reporters who were not old enough to have covered his Waterloo of Watergate.
We had our coffee with him two years before he died. Some of his observations on the presidential race were smart but one seemed more vengeful than visionary.
He warned that Bill Clinton's campaign would have to be careful about how it deployed Hillary Clinton. "If the wife comes through as being too strong and too intelligent, it makes the husband look like a wimp,'' he said, adding that unfortunately some voters concurred with Cardinal Richelieu's pronouncement, "Intellect in a woman is unbecoming."
I wondered if he was still smarting that Hillary Rodham had been a lawyer for the House Judiciary Committee's impeachment inquiry. And I didn't agree with him. Arkansas voters had a period of adjustment with their governor's formidable wife. But on the national stage, it was Bill Clinton's inability to control his appetites that made him seem weak — not having a strong partner.
Without missing a beat, nearly three decades later, William Bennett went on Fox News after Joe Biden anointed Kamala Harris and picked up right where Nixon had left off.
"She is a very ambitious person,'' Bennett told Bret Baier, about how the California senator might overshadow Biden. "She'll be out there doing tons of interviews. Where will Joe be? Will he still be in the basement? There could be some problems here that arise."
It won't fly.
All those old tropes about castrating women are threadbare as Trump's despicable attempt to recycle the birther smear he used to slime Barack Obama, this time against Harris, the daughter of a Jamaican father and Indian mother. She was born in Oakland, Calif.
Biden looks confident for choosing an accomplished woman who delivered a haymaker in a debate. After Donald Trump's petty vindictiveness, Biden rising above grudges is a lovely thing to behold.
President Trump represents the last primal shriek of retrograde white men afraid to lose their power. He's a dinosaur who evokes a world of beauty pageants, "suburban housewives,'' molestation, cheating on your wife when she's pregnant, paying off porn stars, preferring women to be seen and not heard, dismissing women who challenge you as nasty, angry and crazy.
Even as Fox hacks lambasted Harris as "transactional," Michael Cohen dropped an excerpt from his tell-all describing life with Trump as a mob movie: "I bore witness to the real man, in strip clubs, shady business meetings, and in the unguarded moments when he revealed who he really was: a cheat, a liar, a fraud, a bully, a racist, a predator, a con man."
In his nefarious attempt to suppress the vote, Trump is ruining that great American achievement, the U.S. Postal Service. He's complimenting Marjorie Taylor Greene, the winner of a Republican primary in Georgia who openly flirts with the insane QAnon cultand says she's going to Washington to get rid of that "bitch," Nancy Pelosi. (Let us know how that goes.) And, inexplicably, the president is talking about undermining Social Security, not only touching the third rail of politics but picking it up and putting it in his mouth.
Yet our mad king has the gall to dismiss Harris as "sort of a madwoman."
Trump's hard-core base of white misogynists and his yammering sewing circle of Bill Barr, Rudy Giuliani, Sean Hannity and Tucker Carlson will eat it up.
"Is America ready for a shallow, hectoring, rich lady whose only real fans work at hedge funds and MSNBC?" Carlson said, hectoring.
Harris has shown that she can throw a few elbows, that she doesn't worry about always being nice, and I like that about her. The effort to cast her as an Angry Woman will not succeed; the country is rapidly moving past such caricatures. Besides, women should be angry. Trump's feckless response to the coronavirus has forced parents to play Russian roulette with their kids and schools.
It's rich that the campaign of the phony in the Oval called Biden's running mate "Phony Kamala." If Team Trump wants to depict her as calculating, bring it on.
After all the Trump flailing, some calculating would be welcome. We need the daughter of a scientist — as a little girl, she washed her mother's test tubes at the research lab — to calculate the best way to get us out of virus Groundhog Day, once the president who fought masks and who bungled testing is dispatched. We need someone who worked in law enforcement to calculate the best way to reimagine policing without decimating it.
The charismatic senator bristles at being called "the female Obama.'' Valerie Jarrett, Hilary Rosen and other feminists have sent out a memo instructing the media not to talk about the appearance of a woman running on the ticket. Don't call her glamorous! Still, I have to say, the senator has that same magnetic smile that Obama had, back in the days before Mitch McConnell wore him down, a smile that fills you with hope about what America can be.
After Biden teamed up with Obama, he said privately that he knew that he was unlikely to succeed the president because his party would want to make history with the first woman in the White House after the first Black president. Biden would have to settle for being the bridge linking the past — experience and establishment ties — to a future with the exciting political newcomer.
But fate, which has often been cruel to Biden, has provided a stunning, soaring twist to the story. After being condescended to by Obama whippersnappers and Hillaryworld, and pushed out of contention for the 2016 race by Obama, Biden was brought back to life in 2020, at age 77, by Jim Clyburn and Black voters in South Carolina. And now he will be the nominee he thought he could never be, as well as the bridge for another younger, biracial, razzle-dazzle partner with an uncommon first name. This time, it's a woman from the West with a "Modern Family" home life. Biden could be paving the way for the first woman to be president, one who writes with pride about her Black and South Asian roots. (A bit of expiation for Anita Hill.)
If that happens, Donald Trump will deserve some credit, too, for mobilizing women voters to fight against his porcine, backward, dangerous behavior and inspiring Democrats to push for a woman, especially a woman of color, to get the golden ticket. Trump tweeted Friday that he wants to build a "BEAUTIFUL STATUE" here in honor of the centennial of women getting the right to vote. But being the catalyst to elect the first woman as vice president would be the best way to celebrate.
. . .